The National Society for the Prevention of Cruelty to Children
 (NSPCC) conducted a survey of more than 1,000 children aged 11-16, and found that at least half had been exposed to online porn. Of this group, almost all (94%) have seen it by age 14. The UK organization joined forces with Middlesex University to further study the impact of online porn on kids, in the largest study of its kind.
A Desire To Copy The Behavior
Unsurprisingly, the effects of watching porn on the young boys was readily apparent. Many boys revealed that they wanted to copy the behavior they had seen watching porn. More than a third (39%) of 13-14 year-olds who responded to this question – and a fifth of 11-12 of year-olds (21%) – wanted to repeat porn acts. The interesting part? These answers came despite more than 3/4 of the kids agreeing that porn didn't help them understand consent.
The survey also showed that young people are as likely to see online porn accidentally as they are to actively search for it. That means that with the amount of porn that's online today, it is actually easier for a kid to stumble across it then to search for it on purpose. And for almost 2/3 of the children, this first exposure to porn happened right in their own home.
Related:
The Percentage of 12-Year-Olds Who Admit Being Addicted To Porn Will Shock You
One of the most unsettling findings was that over half of the boys (53%) believed that the porn they had seen was realistic. They believed that what they view in porn is an accurate depiction of sex and sexuality.
Competing With Porn
This was in comparison to 39% of girls who believed the same. Many of the young girls surveyed said they were worried about how porn would make boys see girls and the possible impact on attitudes to sex and relationships.
"It can make a boy not look for love, just look for sex and it can pressure us girls to act and look and behave in a certain way before we might be ready for it."
– 13-year-old girl
Related: Sex Before Kissing – 15-Year-Old Girls Dealing With Porn Addicted Boys
Another unsurprising finding goes to show the escalating nature of porn viewing. Children described how their feelings towards porn have changed over time. 27% surveyed reported feeling 'shocked' the first time they viewed it, but follow up work revealed that just 8% remained shocked after the first time they watched it.
Why This Matters
This incredibly in-depth survey by the NSPCC (click here to read the full report) shows the massive role that porn is playing in the development of young kids these days. What they're learning are skewed perceptions of sex and harmful attitudes about their natural sexuality.
By being educated and raising awareness on these findings, we can hopefully spare the next generation of the many harms that are sure to come due to this pornification of our society.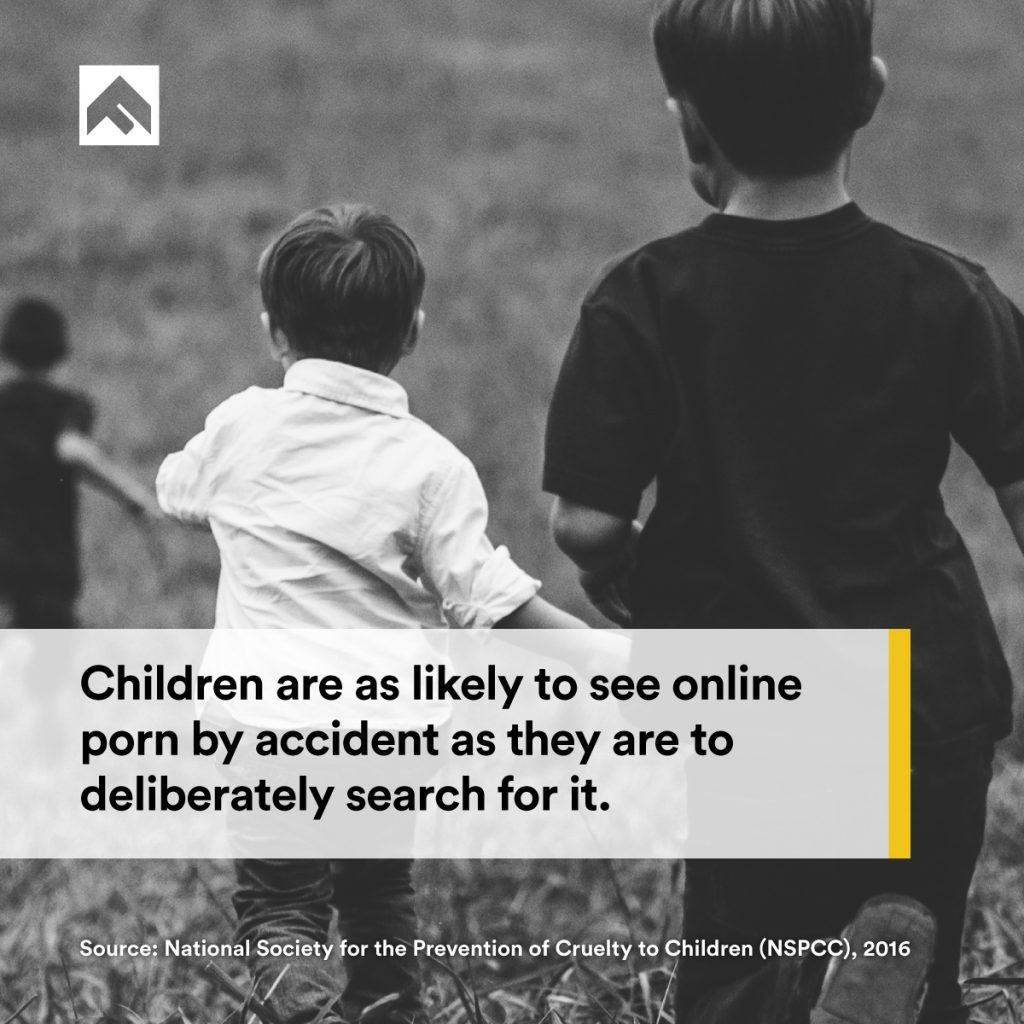 What YOU Can Do
SHARE these important findings. Help young kids understand the harms of watching porn and take a stand for real love.